Mission Services – Fill the Bus to Support Rotholme Family Shelter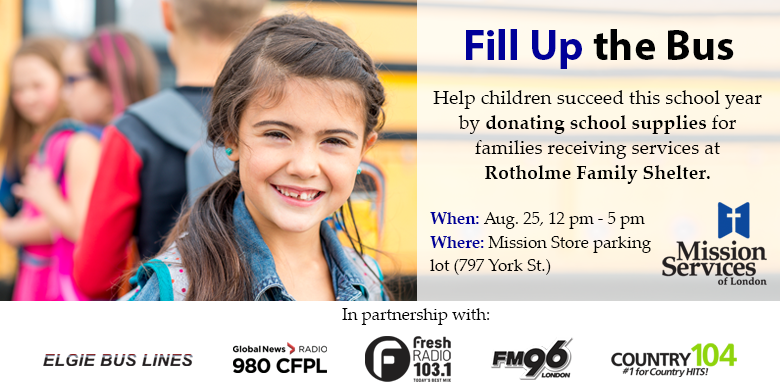 It is almost time for the children in our community to go back to school, but some families are struggling to get the necessary supplies. Thanks to our Fill the bus event, you can help by donating school supplies to children in need at Rotholme Family Shelter.
When: August 25, 2020, from 12 p.m. to 5 p.m.
Or: Mission store parking lot (797 York Street)
Fill Up the Bus runs every August to collect in-demand items for K-12 students. Donated items are given to students throughout the school year as needed.
This year, priority items understand:
child and standard size masks
travel size hand sanitizer
backpack
indoor non-marking shoes
peanut free snacks
reusable water bottles and snack containers
lunch bags
new clothes for all ages
calculators and scientific calculators
USB flash drives
Kleenex pouches
bindings
pencil cases
pens, pencils and colored pencils
erasers
highlighters
the leaders
Due to the ongoing pandemic, we will coordinate a disembarkation at the curb donations. Please follow the steps below:
Enter the parking lot from Rectory St. and head to the Mission Store
Park in the dedicated parking spaces. Staff will be there to give you directions and point you in the right places.
Once parked, remove the donations from your car and drop them off in the bin located in front of your parking space.
Exit the parking lot on York St.
Unfortunately, we will not be able to enter any vehicle or assist in unloading vehicles. Please bring someone to help you unload if you need assistance.
If you prefer to make a financial contribution in order to purchase the necessary school supplies, please donate online